Private networks made easy
Connect all your devices using WireGuard,
®

without the hassle.
Tailscale makes it as easy as installing an app and signing in.
No config files, no firewall ports
Create a secure network between your servers, computers, and cloud instances. Even when separated by firewalls or subnets, Tailscale just works.
Without Tailscale

Connecting to coworker's machines or your different services requires complex systems, multiple hops and cross-continent latency.
Available for
Linux
Mac & iOS
Windows
Raspberry Pi & ARM
Android
Use your SSO and MFA
Devices only connect after signing in through your existing identity provider. Easily enforce multi-factor authentication, deauthorize employees who've moved on, and more.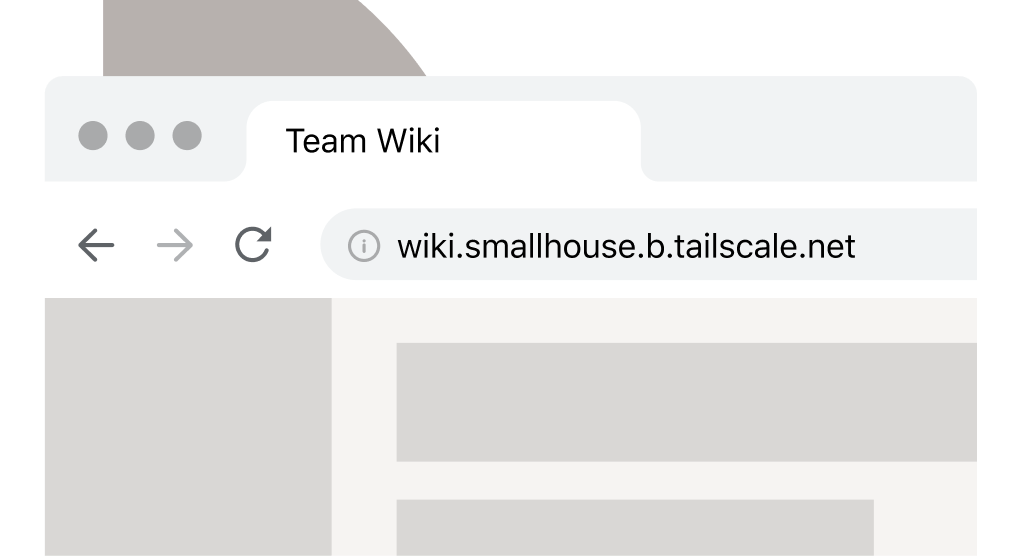 Always the same IP
Every device on your network gets a stable IP and auto-assigned domain that stays consistent, no matter what Wi-Fi the device is on. It's like a local network that works everywhere.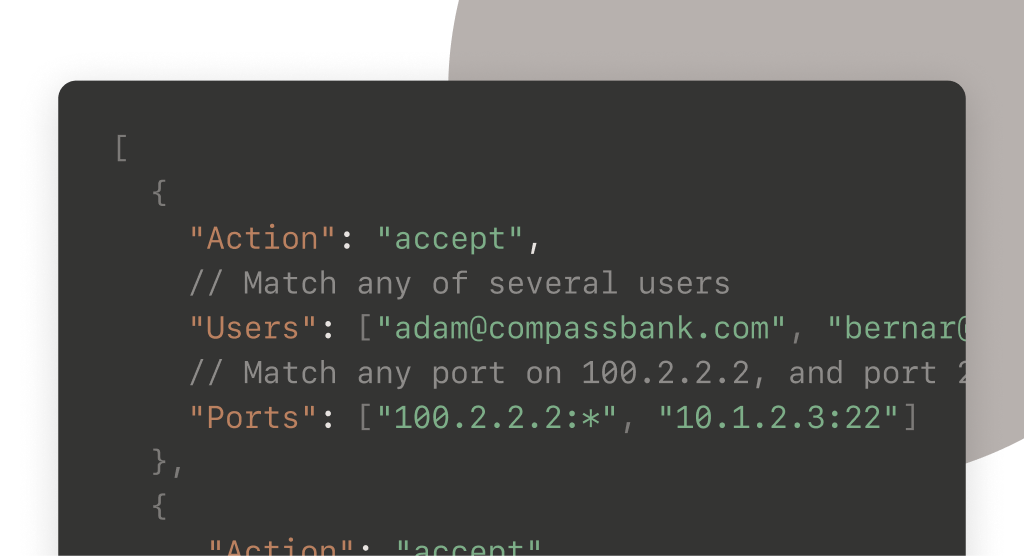 Access controls & monitoring
Define role-based access controls to restrict sensitive servers or authorize contractors to only see what they need. And every connection is centrally logged from both ends, viewable from a dashboard and logging API.
Strong security, without the pain
Best practices used by billion-dollar companies, made easy for teams of every size.
Automatic key rotation

Hourly and daily rotations minimizes the risk of stolen keys or stale credentials.

Secured with WireGuard

Tailscale builds on top of WireGuard's Noise protocol encryption, a peer-reviewed and trusted standard.

Point-to-point connections

Low latency and private. None of your traffic ever touches our servers.

Audit-compliant logging

Logging from both ends of the connection ensures your network traffic is tamper-proof.
For every kind of team
From security-audited enterprises to home server hobbyists, Tailscale makes networking easy for everyone.
I recently added 4 more nodes to my WireGuard network. 6 logical networks transformed into one. It is magic. It was actually the same feeling I felt when using @Dropbox back in the day. Easy to consider that @Tailscale could be the dropbox of private networking.
Achievement unlocked: Used @Tailscale to install #postgresql on my home tower and only listen to the tailscale internal tunnel IP, and only allow inbound connections from 2 of my tunnel IPs. Now my laptop can use my tower as a database server from anywhere. My new fav dev tool
Set up @Tailscale across a few home and cloud devices in a few minutes. Magical! ✨
tailscale is pretty damn nice (especially considering how much time I burned trying to get zerotier working on iOS). wish there were an android port, but i'm assured it's coming. nice work, @davidcrawshaw et al :)
Cool @Tailscale win: for some reason, my little git server at git.semicolin.games got targeted by a DDOS last night.

I temporarily switched my server to serve only over the Tailscale VPN address, and could thus keep accessing all my stuff until the attackers moved along.
I am amazed at how easy @tailscale made it for me to create zero-trust multi-cloud environment for my customer. I have a ton of use cases going through my head. @bradfitz @NicolasChaillan
OK yeah @Tailscale is good. This morning I got it running on my iPhone and a Linux server JUST using my phone (and Prompt by Panic) and they're now in a mesh network together.

Just got it running on my Mac too, so now it's a three-device network. Completely free, took minutes.
I just used my private @tailscale tunnels to SSH into my other machines and switch the daemon from tailscale-relay (old) to tailscale (new). I was able to upgrade tailscale remotely without ever losing a link.

THIS is what good software should feel like.
So I decided to reserve this morning to read up on @tailscale and get it set up on my various machines at home.

That took a hot 30 minutes and I have to find something else to do. 🤷‍
@Tailscale is incredibly cool. Stunning in simplicity and usability. (I acknowledge this is an esoteric tweet. I predict it will be less esoteric in a year or two.)
@Tailscale busts double nat (travel router -> plane wifi) and connects me to my home server so I can silence a prometheus humidity alert (can't really add water to the humidifier from here).
Need a good VPN solution like everyone else right now? @Tailscale is now GA - congrats! No snake oil crypto here - peer reviewed & open source. No IPSec complexity. User-space daemon in a memory safe language with broad OS support 💥
I have been using Tailscale for about 3 weeks know (since I went into self isolation) and very happy. Linux servers and OS X clients so far. It just works.
After installing @Tailscale on a bunch of machines on my home network (Linux x86 + aarch64, MacOS, Windows) I've just ventured out. Had to restart the process but holy moly, just SSH'ed into my boxes, building code and pushing configs around like I'm home. Amazing. Converted
If you deal with servers in any way drop everything and get this. VPN nirvana. @Tailscale
The beauty of @Tailscale is that they enable people to make their own personal internet, for free in most cases. It's this weird paradigm shift, since you have to actively work to make applications insecure rather than the other way around.
Ok. I just spent 30 minutes getting @tailscale up and maybe 20 of that was talking to @dave_universetf on their IRC test website. It is awesome. 10 min to get my phone, home desktop, desktop at work, a couple local servers and a cloud box all connected to the same network.
@Tailscale utilisent wireguard. C'est léger, très performant, fonctionne en UDP, passe les nat et c'est très très facile à mettre en place.
So @tailscale is a legit product, even at this early stage. I almost feel sorry for all the VPN software/device vendors out there that saddle their users with miserable usability.
Just paid for @tailscale. Installed it on our robots; so far so good. Compared to OpenVPN:
* Serverless
* Always on
* Same config in office & field
* Scales to large # devices
* GUI-based ACL w/SSO
* Fixed IPs, DNS-friendly
* Dead simple config+use

Kudos team @tailscale!